WHERE IS THE HOTEL EXACTLY?
The hotel is situated in the heart of the old town, by the newly built Eleftherias Square, which was designed by the world famous and honoured architect Zaha Hadid and is considered as the capital's jewel.   
Google coordinates: 35°10'12.1″N 33°21'41.6″E   or 35.170024, 33.361552 or enter [[Centrum Hotel]] in Google maps.
If you have been dropped off at the Municipal Building/Post Office then use the small paved road opposite the Post Office (Chalkoutsi Street) which leads you to the side door of the hotel (10m).
HOW TO GET TO CENTRUM HOTEL FROM THE AIRPORT?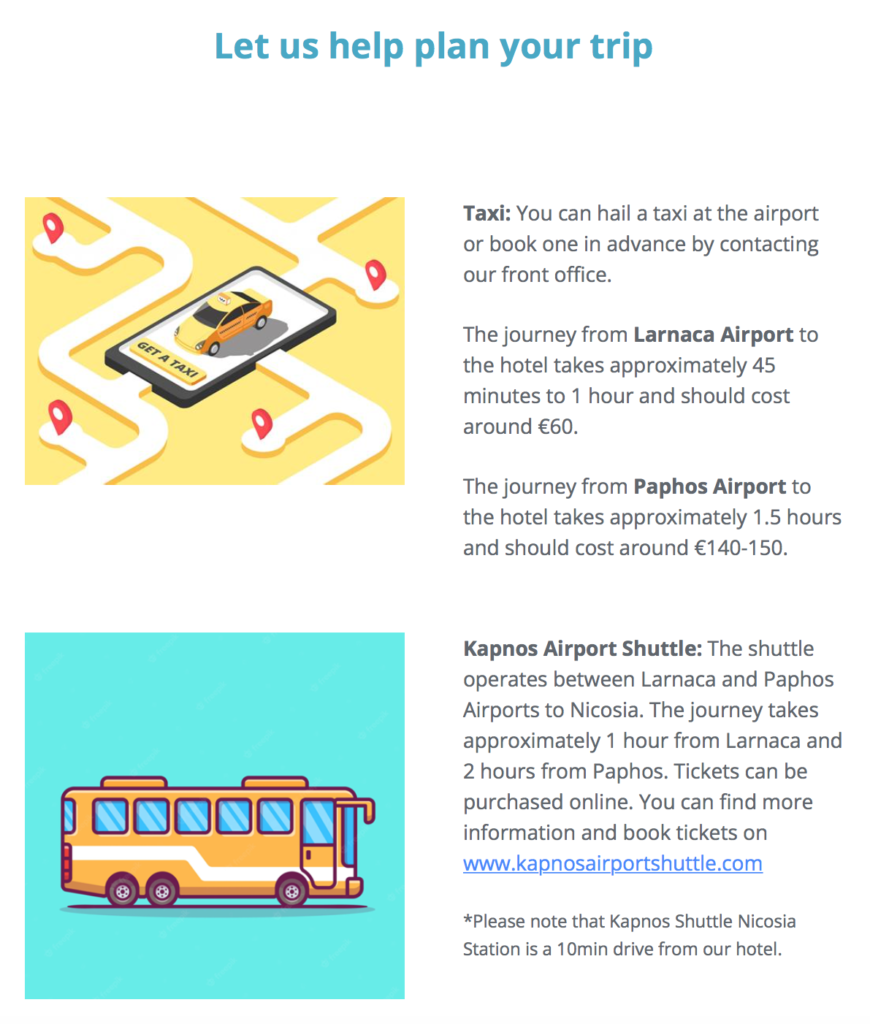 If you are arriving to Larnaca or Paphos airports there are three options:
Taxi
Pick up any of the airport taxis or ask for a personalised pickup service from us. Cost is around €40 to €50.
Kapnos Airport Shuttle
These are minibuses that serve Larnaca and Paphos airports. Drop off point is at their bus terminal from where you can get a taxi to come to the hotel.  https://www.kapnosairportshuttle.com/
Car rental
Prearranged from the various car rental companies or upon arrival.
Other Airports or Ports
We can arrange for a personalised taxi to pick you up and bring you to our hotel. Please contact us.
WHERE CAN I PARK AND HOW MUCH DOES IT COST?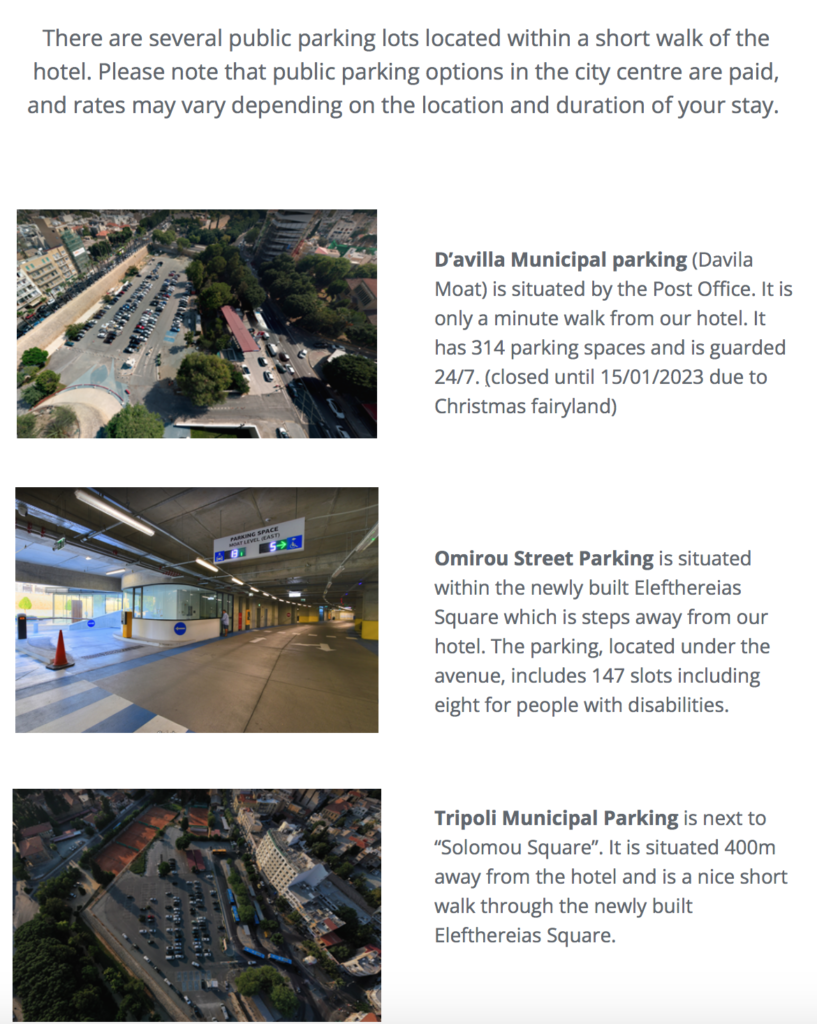 D'avilla Municipal parking (Tafros Parking) is situated by the Post Office. It is only a minute walk from our hotel. It has 314 parking spaces and is guarded 24/7.
Omirou Street Parking is situated within the newly built Elefthereias Square which is steps away from our hotel. The parking, located under the avenue, includes 147 slots including eight for people with disabilities.
Tripoli Municipal Parking is next to "Solomou Square". It is situated 400m away from the hotel and is a nice short walk through the newly built Elefthereias Square.
The old GSP stadium has now been converted into free parking. You can park during all day & night and any day of the week. It is situated 8 minutes walking distance from our hotel
Please refer to the map from our website or Use Google maps 35°10'07.2″N 33°21'45.8″E or 35.168668, 33.362732 (Coordinates for D'avilla Parking) & 35°10'17″N   33°21'29″E (Coordinates for Tripoli Parking)
You can also search for [[D'Avilla Bastion Parking]] or [[TripoliBastion Parking]]  in Google maps.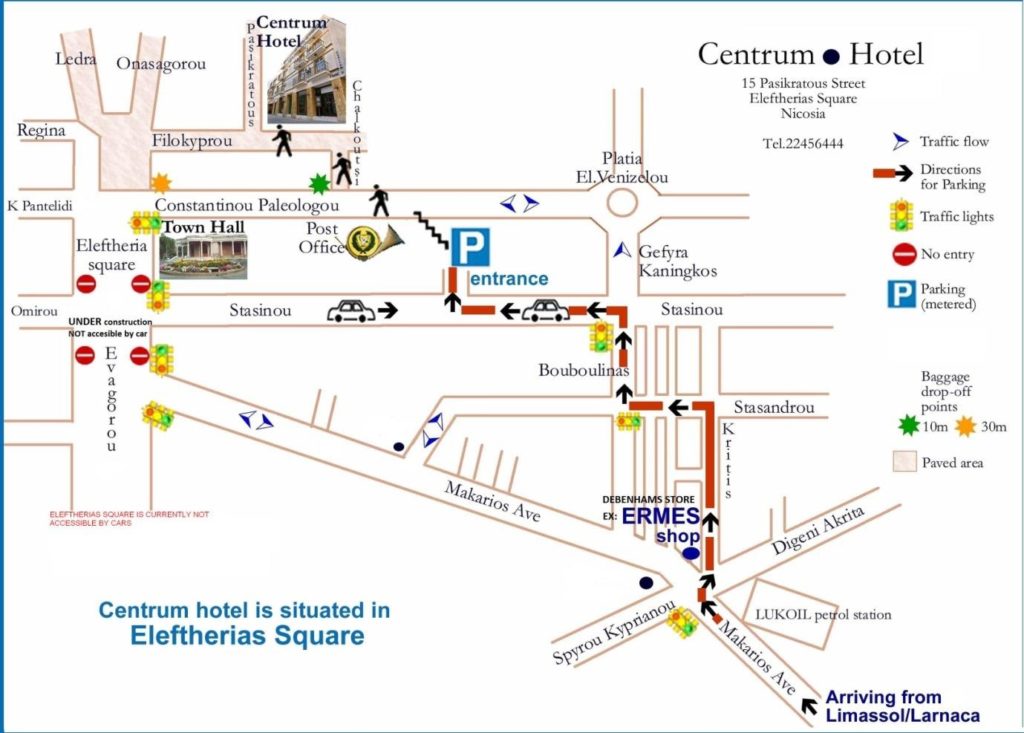 IS THE RECEPTION OPEN AT ALL TIME?
IS THERE A LUGGAGE ROOM FOR SAFE KEEPING BEFORE OR AFTER CHECKING IN/OUT?